Oral Health Care & Prevention: Amalgam Fillings
Amalgam Fillings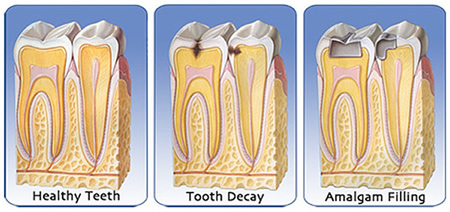 For over 150 years dentists around the world have been using amalgam fillings to fill cavities caused by tooth decay. Dental amalgam is comprised of a mixture of metals made of liquid mercury and a powder composed of an alloy of silver, copper and tin. The chemical properties of the liquid mercury allow it to react with the silver, copper and tin particles to bind them all together and create amalgam.
Although dental amalgam is often referred to as "silver fillings", by weight, almost 50% of amalgam is comprised of mercury. Before placing the amalgam into the decayed tooth, the decayed dental tissue must first be removed by drilling the tooth. The chemical ingredients are then mixed under safe and controlled conditions and applied to and shaped in to match the shape of the tooth where it quickly hardens. Once hardened, the amalgam forms a strong and long-lasting filling which lasts years or even decades without breaking.
In 2009, the FDA evaluated a large body of research and found there to be no reason to limit the use of amalgam as it was found to be safe in adults and children ages 6 and above. During your visit, should there be a need for any fillings we will go over the various options available to you and discuss what the best solution would be for your specific needs and preferences.
Our Location
Infinite Smiles DC
1145 19th St. NW #508
Washington, DC 20036
Tel: (202) 849-3626
New Patients: (202) 568-6968
After Hours: (202) 826-7000
Fax: (202) 849-3598
 Office Hours
Mon: 8:00 am – 5:00 pm
Tues: 8:00 am – 5:00 pm
Wed: 8:00 am – 5:00 pm
Thurs: 8:00 am – 5:00 pm
Fri: 8:00 am – 2:00 pm
Sat: By Appointment

After hour & weekend
appointments available