Oral Health Care & Prevention: Periodontal Disease
Periodontal Disease (Gum Disease)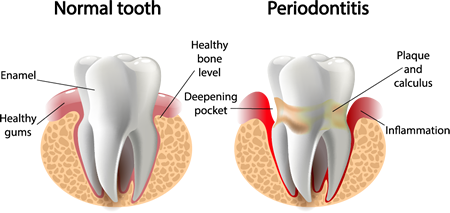 Gum disease is usually caused by buildup of plaque which is sticky film of bacteria which harden on the teeth. If left untreated, gum disease can lead to bleeding gums, sores, pain while chewing and even tooth loss. When we brush and floss our teeth, most plaque is removed. Plaque that is not remove, however, becomes hard and forms "tartar" which can't be removed by brushing alone.
Among the causes of gum disease, smoking isn't just the most significant factor, it can also make the treatment of gum disease harder and less successful. Other factors include diabetes, medications that inhibit the production of saliva as well as genetic susceptibility.
Symptoms of gum disease include:
Persistent bad breath

Red or swollen gums

Bleeding gums

Pain while chewing

Loose teeth

Sensitive teeth

Receding gums
One way to prevent gum disease is to come in for your routine dental check up to have any plaque and tartar removed before they can do significant damage to your teeth.
Our Location
Infinite Smiles DC
1145 19th St. NW #508
Washington, DC 20036
Tel: (202) 849-3626
New Patients: (202) 568-6968
After Hours: (202) 826-7000
Fax: (202) 849-3598
 Office Hours
Mon: 8:00 am – 5:00 pm
Tues: 8:00 am – 5:00 pm
Wed: 8:00 am – 5:00 pm
Thurs: 8:00 am – 5:00 pm
Fri: 8:00 am – 2:00 pm
Sat: By Appointment

After hour & weekend
appointments available