Dentures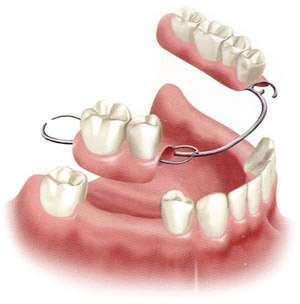 Usually referred to as Dentures, a removable bridge is simply a replacement for missing teeth and the surrounding tissue. There are different types of dentures, however, most are made of acrylic resin which are often mixed with different types of metals.
Partial dentures are used to fill in the gaps created by missing teeth which offer both aesthetic improvements as well as ensure that the other teeth from moving within the upper or lower jaw. Complete dentures, on the other hand, are made to replace all of the teeth of the upper or lower jaw.
Dentures also improve the ability to chew, speak and often provides support to facial muscles which can offer significant aesthetic improvement to one's facial structure.
In cases where a patient requires complete dentures due to the removal of all of the teeth of the upper or lower jaw, there is typically a healing period where there may be a reduction in both bone as well as gum tissue. When there is loss of gum or bone tissue there dentures will need to be re-fitted to match the unique shape of the patient's mouth.
Usually, getting the right dentures and the right fit takes several weeks and approximately 5 appointments. Once your dentures are ready and you first start using them, they may take a little getting used to at first. Start by eating and chewing softer foods and be sure to use both sides of your mouth to chew to keep retain a symmetrical amount of pressure to both sides of your mouth.
If anything goes wrong with your dentures (i.e. cracks, improper fit, chips, etc) please contact us immediately. Most fixes to dentures can be completed within a day while the continued use of flawed dentures can lead to problems with your gums or jaws.
Our Location
Infinite Smiles DC
1145 19th St. NW #508
Washington, DC 20036
Tel: (202) 849-3626
New Patients: (202) 568-6968
After Hours: (202) 826-7000
Fax: (202) 849-3598
 Office Hours
Mon: 8:00 am – 5:00 pm
Tues: 8:00 am – 5:00 pm
Wed: 8:00 am – 5:00 pm
Thurs: 8:00 am – 5:00 pm
Fri: 8:00 am – 2:00 pm
Sat: By Appointment

After hour & weekend
appointments available