Pinhole Surgical Technique
Pinhole surgical Technique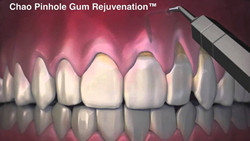 Gums recede for many reasons, including hormone fluctuations, the use of tobacco products, tooth clenching and grinding, a misalignment in the teeth, gum disease, or simple genetic predisposition.
Receding gums expose the roots of teeth, leaving them vulnerable to infection and causing pain and sensitivity.
Left untreated, receding gums can lead to the loss of teeth and deterioration of the jawbone that supports them, causing serious damage to your smile and your overall oral health. In order to prevent these outcomes, the gum tissue must be restored.
Unlike older treatments which rely on grafts, the Pinhole Surgical Technique allows us to reposition your existing gum tissue. We use a needle to make a tiny incision high in your gum tissue, through which special instruments can be inserted. These instruments loosen and stretch the gum tissue, allowing it to be gently pulled into place to cover your tooth roots. This method offers several benefits over traditional grafts including:
Minimal Invasiveness: There are no scalpels involved in this technique; the affected gums are gently stretched, not cut

No need for a donor site: Because this technique relies on your existing gum tissue, there is no need to take tissue to be grafted from another site in your mouth

No sutures or incisions: Aside from the small pinhole from which the procedure takes its name, there will be no cuts made and no stitches needed

Faster, less painful recovery: The minimal damage to your gum tissue means a reduced recovery time with less discomfort than traditional methods.

Immediate cosmetic improvement: The Pinhole Surgical Technique provides immediate, long-lasting, natural-looking results.
Our Location
Infinite Smiles DC
1145 19th St. NW #508
Washington, DC 20036
Tel: (202) 849-3626
New Patients: (202) 568-6968
After Hours: (202) 826-7000
Fax: (202) 849-3598
 Office Hours
Mon: 8:00 am – 5:00 pm
Tues: 8:00 am – 5:00 pm
Wed: 8:00 am – 5:00 pm
Thurs: 8:00 am – 5:00 pm
Fri: 8:00 am – 2:00 pm
Sat: By Appointment

After hour & weekend
appointments available