Cosmetic Dentistry: Veneers/Porclain Laminates
Veneers / Porcelain Laminates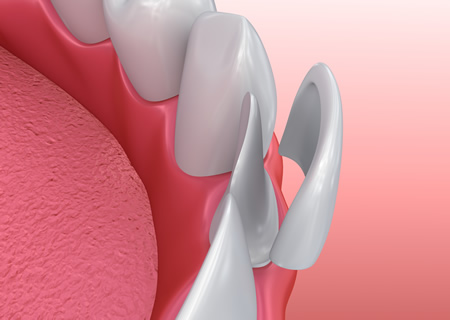 Veneers are thin porcelain pieces that are used to re-create and restore the natural look of teeth while offering a level of strength and resilience comparable to that of natural teeth. Sometimes Veneers are used to enhance a person's smile due to discoloration and other times due to structural issues of a tooth. Each veneer is custom made and boned to the enamel of the tooth it is intended to cover via a series of procedures that are completed during your office visit.
Veneers are a less intrusive method than braces or crowns and can be used to close gaps between teeth or correct small tooth misalignments. Whether the desired effect is to enhance the brightness of your smile, correct factures, cover chips of a tooth or to straighten the appearance of teeth Veneers are a common solution to these issues.
The most common type of veneers are porcelain veneers and composite resin veneers. AACD porcelain veneers are the most common method of choice for correct shape or color related issues and can last for one or two decades and will need to be replaced eventually.
Caring for your veneers doesn't entail anything out of the ordinary. You simply brush and floss your teeth regularly with a non-abrasive fluoride toothpaste. It is recommended, however, that you limit your consumption of drinks and foods that are known to stain teeth over time such as coffee or tea. During your visit, we can go over some options that would work best for your specific needs and preferences.
Our Location
Infinite Smiles DC
1145 19th St. NW #508
Washington, DC 20036
Tel: (202) 849-3626
New Patients: (202) 568-6968
After Hours: (202) 826-7000
Fax: (202) 849-3598
 Office Hours
Mon: 8:00 am – 5:00 pm
Tues: 8:00 am – 5:00 pm
Wed: 8:00 am – 5:00 pm
Thurs: 8:00 am – 5:00 pm
Fri: 8:00 am – 2:00 pm
Sat: By Appointment

After hour & weekend
appointments available